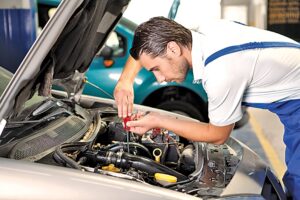 sbrumme99 tt
Honest shop. Great service. Found them about 2 years ago and couldn't be happier. After being shafted by dealers and chain repair shops for most of my life, it's nice to know there's someone out there who isn't interested in squeezing every buck out of you for nonsense repairs.
Jean Burk-Ujvary
The best in Hopatcong
nicholas maresca
Brian is a great guy, one of the best mechanics around.
Marc A. Reynolds
Chris is a great, very honest guy.  They perform the work that needs to be done and don't try and add to your order.  I trust their work ethic and knowledge and highly recommend them.  I've been bringing both of my cars pretty much exclusively to L&S for probably more than 3 years now.  It's never fun dealing with getting a car repaired, but at least going to this shop, I don't have to be concerned about being taken advantage of.
Jennifer Vallario
This was the very first automotive place where I took my Subaru Forester to get tires replaced when I moved here.  I called on a Tuesday to schedule for my tire replacements and had my tire sizes ready (have your tire sizes ready if you need to replace them).  They needed to call to order the tires and would call me back sometime before noon. 
Not even a half an hour later (around 8:45 am) they called back and gave me a quote in total with all 4 tires and alignment/mounting services.  I was able to get it done today on a Saturday since I work full time.  They really kept their word when they would say they would be done and they even held the tires for you since it didn't feel like a first-come, first-serve.  I recommend this place since the cost is really good.  You save $500-$600 dollars doing this as opposed to a dealership.  I'm definitely coming back again if I need anything else worked on in the future.
Anthony Kupin
I always trust the repairs. They stand behind their parts.
Angela Fernot
I've been going here for a few years now and they've done great work. I trust these guys with my car, and that is not usually easy for me. 
Neil Casey
I just had to get my air conditioning repaired this company is fantastic great customer service  and they did the repair for over 300 less then what I was quoted earlier in the day. They just gained a new customer for life.
Michele Gjelsvik
Eric and his team are very polite, not pushy and always understanding of their clients situation and do all they can to work with you.
Steve H
Used their services three or four times now. They are very polite, friendly people and offer a great service at a great price. They definitely deserve a rating of Excellent.
Marlee Amato
Professional with a personal touch. Highly recommend them!!!
David Poli
Very courteous and always got the job done quickly.  They've rescued me several times.
Courtney Renegar
Great work, great prices and good people.
Tony Coppola
Great service!
Jean Scrocco
Been using these guys for years. They are fantastic!
Kat good songs XP
Friendly and honest
Warren Campbell
Friendly, polite, professional and honest.
Susan Maddaluna
Trustworthy honest and efficient.